Three years of development, Nectar Sleep is building the most comfortable bed? Does Nectar Mattress meet your requirement for best mattress? This review will help you to learn more about it!
CONSTRUCTION
NECTAR MATTRESS LAYERS
Nectar Matress' height is 11 inches including 4 layers
Top layer / cover (comfort & cooling): 1″ of gel memory foam. As far as I know, gel memory is good for mattress cooling. The top layer is actually quilted within the cover and designed to provide the cooling and initial comfort for the sleeper. Gel memory foam helps to pull heat away from the sleeper, while offering a pressure-relieving, softer top layer. This layer has a density of 4.0 PCF.
Second layer (contour):  3″ of memory foam. This layer offers both the support and contour for the sleeper. When sinking through the top layer, sleepers will interact with the second layer. It will conform to their body and provide support to the sleeper before they hit the denser base layer. As well, this middle layer provides a degree of comfort for the sleeper. This layer has a density of 3.5 PCF.
Third layer (support):  1.75″ of memory foam. Sleeper will get better support and pressure relief from this memory foam layer.
Bottom layer (support & foundation): 5.25″ of high-density support foam. Act as a foundational base for the mattress as a whole, this layer provides support and deep compression support for sleepers. This layer has a density of 2.2 PCF.
COVER
The cover of Nectar is quite nice with white and grey color. It's made from a blend of Tencel and cotton. That makes the cover so soft and gives sleepers high breathability.
You know that Tencel is a fabric derived from the Eucalyptus tree and is known for its highly breathable nature. I'm sure that you are sastisfied when using the cover of Nectar Mattress.
 Moreover, Nectar has designed the cover so that it can be fully unzipped and spot cleaned. If the cleaning does not get the job done, you have the option of contacting Nectar and asking for a new cover (one new cover per mattress). The company will send you a brand new cover, free of charge. I have to say that not many companies can do like Nectar can.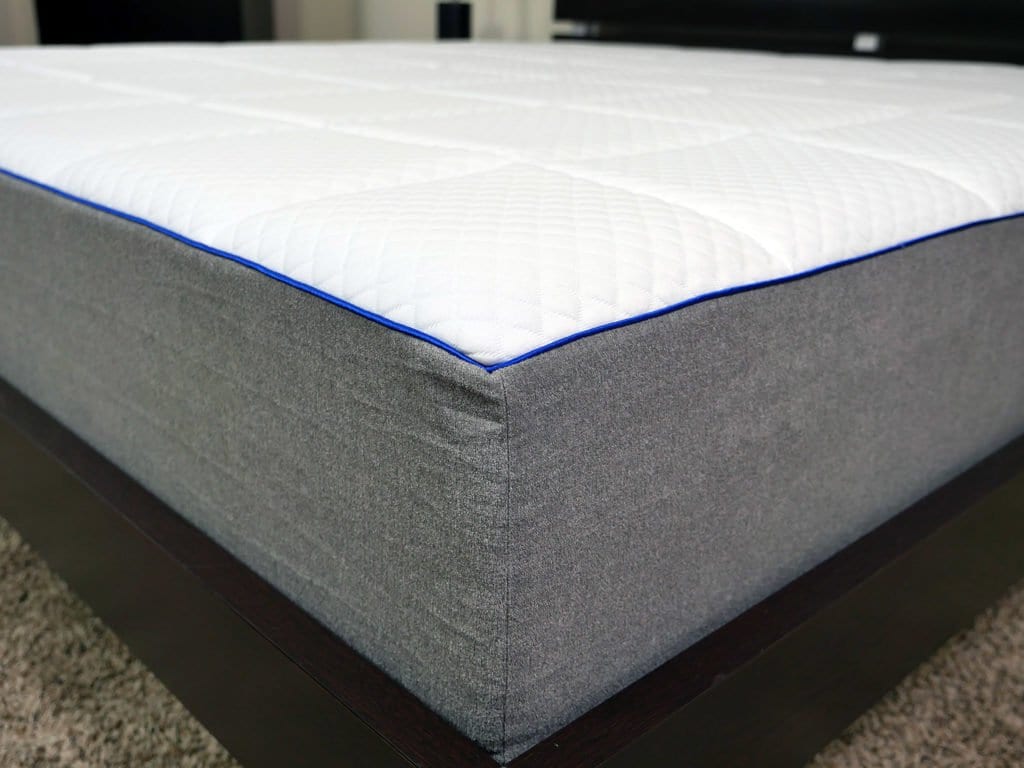 FIRMNESS, FEEL, & SUPPORT
Firmness
The Nectar mattress carries a medium feel, offering a 5.5-6 out of 10 on the firmness scale, where 10 is the most firm. This firmness level meet the needs of most sleepers.
Nectar Mattress is a high density mattress, which provides greater longevity. The mattress has a deeper and more pronounced hug and contour. It allows your body to sink into the foams and wraps along the unique shape of your body.
Feel & Support
The Nectar Mattress response is a little bit slow. Therefore, it takes several seconds  to again mold to the new shape, position, and pressure that your body is placing on the mattress. For some sleepers , these qualities result in a good feel of pressure relief and even support. But they don't work for all sleepers. A few dislike the feel because it can create a sensation of feeling "stuck" or overly hugged by the mattress.
But I have to tell you that overall, the support of Nectar Mattress is so good. Having a 1″ gel memory foam quilted cover + 3″ of comfort memory foam assures consistent support and a gradual and appropriate transition into the more supportive base foam.
Bounce
 Nectar mattress's bounce is nonexistent on account of  its an all foam layers. The top layer of memory foam absorbs almost all of the energy you try to create, leading to an extremely low level of bounce. Now, this may not be the most appealing factor associated with the Nectar mattress, but the lower level of bounce does mean extremely low motion transfer.
Cooling
Finally, cooling. The gel memory foam on top and Tencel infused cover definitely help to keep cooling. Compared to coil, hybrids, or latex, it's going to be warmer. However, compared to the universe of other memory foam mattresses it's definitely among the cooler memory foam mattresses I've tested.
SINKAGE TESTS
This test will give you the a clear how the nectar mattress works and act in different position and situation,
Lying on back – While lying on the back with all of bod weight spread evenly across the mattress, the sinkage is 3 inches.
Lying on side – While lying on the side, the sinkage is 3.5 inches
Sitting on the edge (conservative) – While sitting on the edge with the butt slightly back on the mattress,  the sinkage is 3.25″
Sitting on the edge (aggressive) – In a more aggressive sitting position with all weight directly on the edge, the sinkage is 4.25″
Standing in the middle – With all of body weight standing at one point on the mattress, the sinkage is 5.5″
PRICE
| | |
| --- | --- |
| Size | Price |
| Twin |             $500 |
| Twin XL         |              $550 |
| Full |             $700 |
| Queen |             $795 |
| King |             $900 |
| California King |             $900 |
In comparison with other stores, I think Nectar offers you reasonable price. In addition, you get chance to save a lot with Nectar Coupon Codes at bestmattresstoday.com,
OTHER INFORMATION
Shipping: Free shipping within the United States. Shipping takes ~10 days. Ships compressed in a box. White glove delivery is also available for an additional $99.
Warranty:  Lifetime, years 1-5 full replacement for free if defective, years 5+ repair / replace for $100 transportation fee (fee waived is defect discovered)
Trial Period: 365 nights
If you are in love with memory foam mattress with medium firm feel and great support, don't miss Nectar mattress. For more information, visit Mattress Reviews or Best Mattress, you'll find many reviews about other mattress brands.