INTRODUCTION
Though stomach sleep has a negative reputation, it is still one of the most popular choices for men and women alike. As comfortable as sleeping on the stomach can be, it presents a few hazards that you should be aware of. Lying on the stomach can cause health issues such as: lower back pain, pinched nerves in the shoulders and neck, and daily pain that radiates all the way down to the buttocks and legs, beset stomach sleepers include heartburn and indigestion. If you don't want to change your position, find your best way to reduce these problems as much as you can. Many of the problems associated with stomach sleeping are due to the wrong pillow. Which is the best pillow for stomach sleepers. Let's be together with Bestmattresstoday to reveal some secrets behind best pillow for stomach sleeper!
GOING PILLOW LESS

When sleeping on your belly, the pillow makes your head rest in a non-optimal angle . Many stomach sleepers have tried it and quite a few found it much better than sleeping with a stomach sleepers pillow. Since it doesn't cost anything, it's worth trying to go pillow-less for a few days. If sleeping without pillow helps, you will feel better. If it doesn't, it's time for you to look for a pillow that helps you get a good night's sleep.
WHO NEED STOMACH SLEEPER PILLOW ?

The first one is children because they are known as stomach sleepers. It is important to keep them to maintain a good nighttime spine and neck position to ensure their health.
Adults can use stomach sleeper pillows to either support their heads when lying on their bellies at night, cradle their backs or stomach in other positions. A well designed stomach sleeper pillow can also help people who snore while on their stomachs to avoid health issues associated with breathing difficulties at night.
Pregnancy can be a diffcult time for women who normally sleep on their stomachs. It isn't comfortable to lie directly on their bellies while being pregnant, but they don't like being on their sides or back, and sleeping on the back especially can be difficult and painful for a pregnant woman. Stomach sleeper pillows can support the sides so that pregnant women can lie at an angle that most resembles stomach sleeping and also keeps them from rolling fully onto their stomachs during the night.
HOW TO CHOOSE THE BEST PILLOW FOR STOMACH SLEEPERS?
Flat pillow
Flat pillows are recommended for stomach sleepers. An additional pillow under your stomach might be beneficial for spinal alignment (especially if you have a flat belly) because it reduces the stress on lower back. When it comes to the pillow material, memory foam pillows seem to take over the pillow market as the most comfortable for pretty much every sleeping position.
Luckily, there was an enhanced version of memory foam pillows came to the market not that long ago – shredded memory foam pillows. Since the foam inside the pillow's cover is shredded, one can thin the pillow out or fluff it up depending on personal preferences. Besides memory foam, buckwheat and water pillows are also very popular choices, and for a reason.
Choose right materials
Memory Foam Pillows
Memory foam pillows are made from a Visco-elastic material, a type of dense polyurethane that conforms to your unique shape. Depending on the chemicals used as well as the overall density of the pillow, some memory foam pillows are firm while others are softer. However, this materials is uncomfortable for some people because memory foam reacts to body heat, allowing the material to mold quickly. This material is also prone to heat spots. With its higher price, and thicker than other memory foam Memory foam pillows are not the best pillow for stomach sleepers.
Latex Pillows
Latex is a derived from the rubber tree. Latex pillows are less firm than memory foam pillows but they are durable, supportive and is resistant from mold growth and dust mites. The material is perfect for stomach sleepers because of its ideal "give" and thickness. That said, latex pillows might be too firm for some users.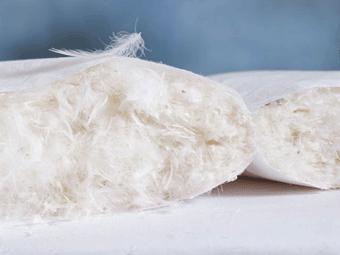 Down are made from feathers or bird plumage. This material offers warm comfort especially if you live in colder regions but it's not the best if you are looking for firmer support. In addition, down pillows are prone to heat spots, they are thicker and are not animal-friendly.
Polyester Pillows



Polyester is a popular material for pillows because it offers soft support and enhanced airflow. Pillows made from polyester are great for stomach sleepers because of the softer support.
Gel Pillow
Perfect for relieving pressure, gel pillows are made from gel infused polyurethane or silicone. The substance helps regulate body temperature, keeping the pillow cool and comfy all night long. However, this material is expensive and it's not the best for stomach sleepers.
Brand Recognition

The reputation of the manufacturer can make a huge difference. Companies that specialize in support pillows such as Leesa mattress, Amerisleep, Dromma Bed, Ghostbed mattress, eLuxurySupply, Helix Sleep, Bear Mattress, Eight Sleep.. They are dedicated to creating top-quality pillows that will perform the way you need them to, and give you the best value. A company with a strong reputation will also care about their customer service and satisfaction. A strong company will be easy to contact if there are any issues happening, or if you have a question regarding your pillow, and offer reasonable guarantees so you can be sure that you will be happy with your purchase.
CONCLUSION

The style of sleeping and supportive accessories will decide the quality of your sleep. Which kind of pillow do you need to support your sleep? Hope this review give you some useful guide to choose a suitable stomach sleeper pillow. Visit our mattress reviews for more information about best mattress from top brands and visit mattress coupon codes category, you may find some coupon codes and discount programs that help you save money on the pillow or mattress you want to purchase. What are you waiting for? Come and enjoy!