INTRODUCTION
Created in 1970s by NASA, until 1990s, memory foam became popularly growing on the market. Not like other traditional mattress, Memory Foam Mattress is famous for its deep compression support, pressure relief, and body-contouring properties.
This review below is aimed to explain the pros and cons of Memory Foam Mattress, as well as to introduce you the best memory foam mattresses on the market and who they are best for.
MEMORY FOAM FEEL
Which makes memory foam mattress a unique and recognizable feel is its consistent characteristic: viscoelasticity. The more pressure that is applied to the foam, the deeper compression and hug you feel. In the time of compression, the mattress will response to the weight of your body and accordingly adjust the density.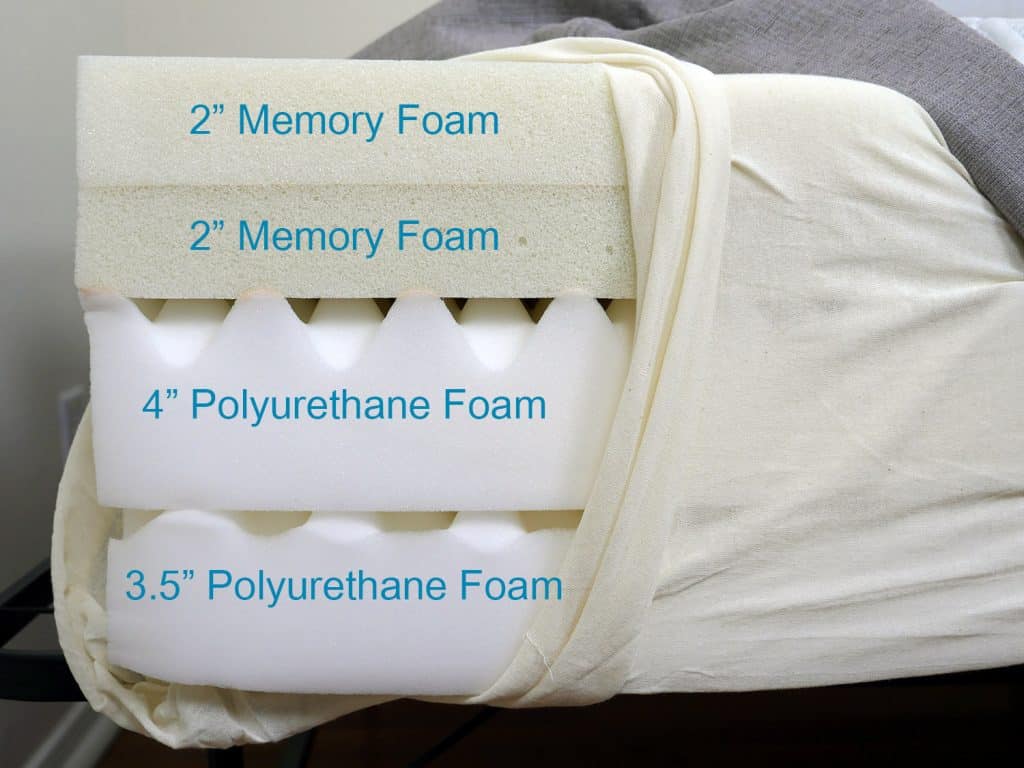 Moreover, the memory foam mattress really contours and hugs your body. The viscoelastic properties of memory foam allows your body to sink into the material, slowly contour to your unique shape. This type of action can lead to the great support and excellent pressure relief.
Keep it in your mind that all memory foam is poly foam, but not all poly foam is memory foam. It is the viscoelastic properties that make a memory foam. Polyurethane foam without viscoelastic properties is not a memory foam.
MEMORY FOAM COOLING & RESPONSE
There are two neutral characteristics of memory foam mattress that can possibly be considered as negative features including: Slow responsiveness and heat retention.
It generally takes several seconds for a memory foam to fully change its molded contour when pressures on the foam change. However, it is this type of contour and hug that also makes memory foam. So for many people, slow responsiveness is a negative but some people are still desirable for it.
Besides, most memory foam is still going to be warmer than a latex, coil, or hybrid mattresses. However, they aren't the heat traps thanks to advanced foam design, improvements in manufacturing, special covers, gel, open-cell structure, and other advancements.
WHAT MAKES THE BEST MEMORY FOAM?
DENSITY 
The higher the density of a foam is, the greater lifespan that foam is likely to have. However, the higher the density of a foam is, the warmer it's generally going to sleep. For me, the sweet spot for memory foam density is in the 3.0-5.0 PCF (pounds per cubic foot) range. This provides enough longevity and durability.
THICKNESS
The thickness of a memory foam layer will play an important role. Memory foam works best when there is at least 4 inches of comfort memory foams. In orfer to gain the comfort and support, varying densities and firmnesses are often layered together.

TYPE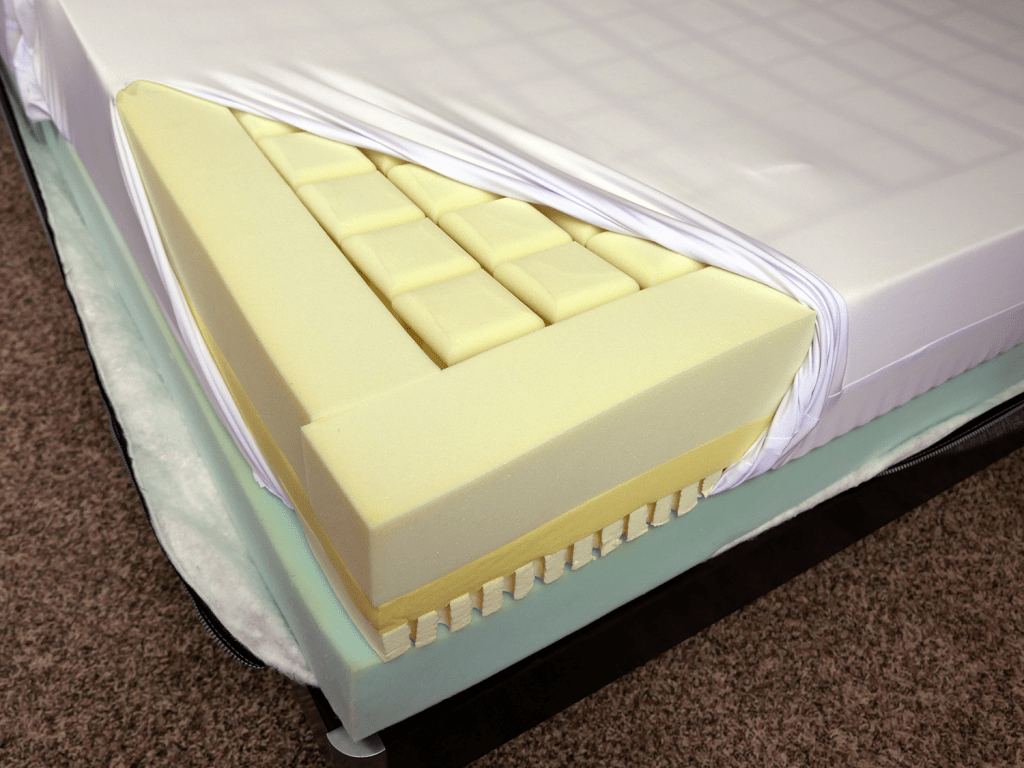 Memory foams can include gel, open-cell designs, cooling pads, special layer designs, aeration holes, and other enhancements that can improve the performance in one or more ways. For example, if you like the feel of memory foam, but want something with a little more response, a more open cell memory foam will create faster response. The section below will give you more information about types of memory foams.
TYPES OF MEMORY FOAM
TRADITIONAL MEMORY FOAM
A more classic or traditional type of memory foam is usually going to be less responsive (takes several seconds to adapt to your changes in movement) and offer a deeper and more pronounced hug and contour.
Density on foam is measured in pounds per cubic foot (PCF). Normally, the traditional memory foams have high density of 4.0-7.0 PCF.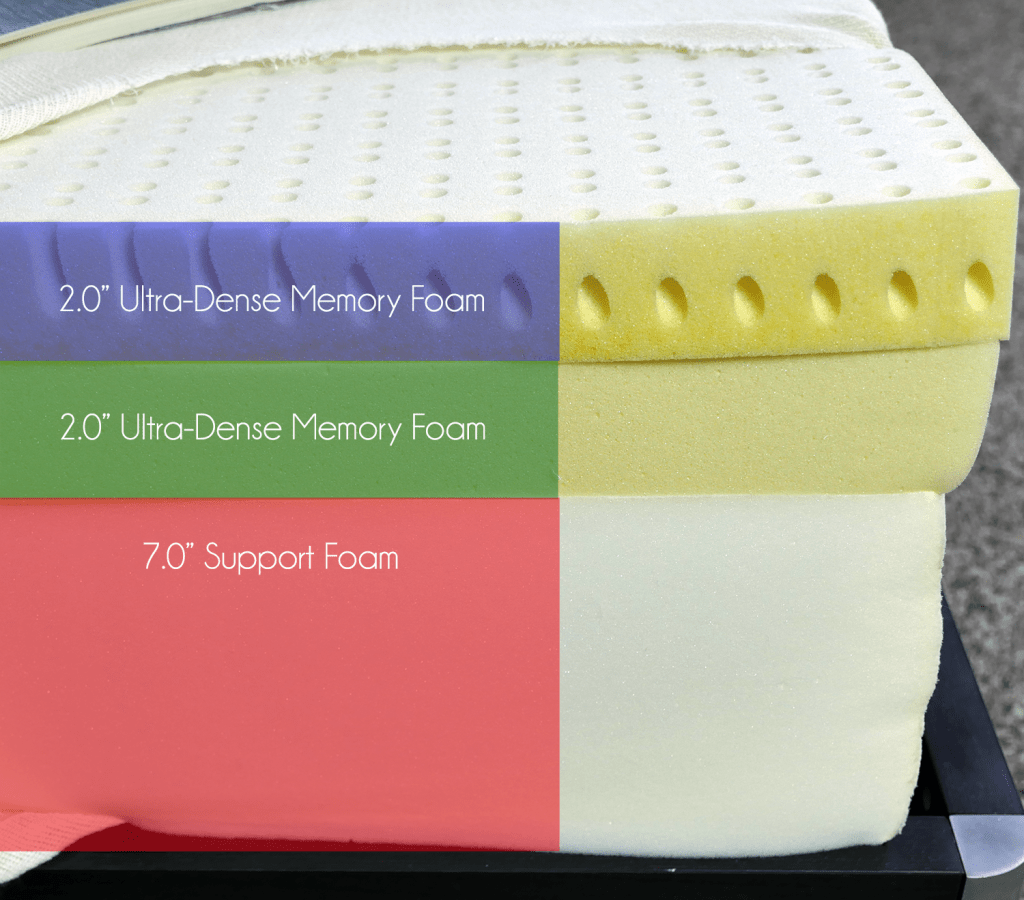 OPEN CELL MEMORY FOAM
Because traditional memory foam uses a closed-cell manufacturing process, it creates a more dense, but less responsive foam. One struggle for traditional memory foam is heat retention. Some sleepers complain about "sleeping hot" or "feeling stuck."
Now open cell memory foam is an alternative. In some ways, open-cell memory foam has a similar feel to traditional memory foam. But during the manufacturing process, tiny air pockets are injected into the foam which results in a foam that has a faster response time and better air circulation than traditional (closed-cell) memory foam.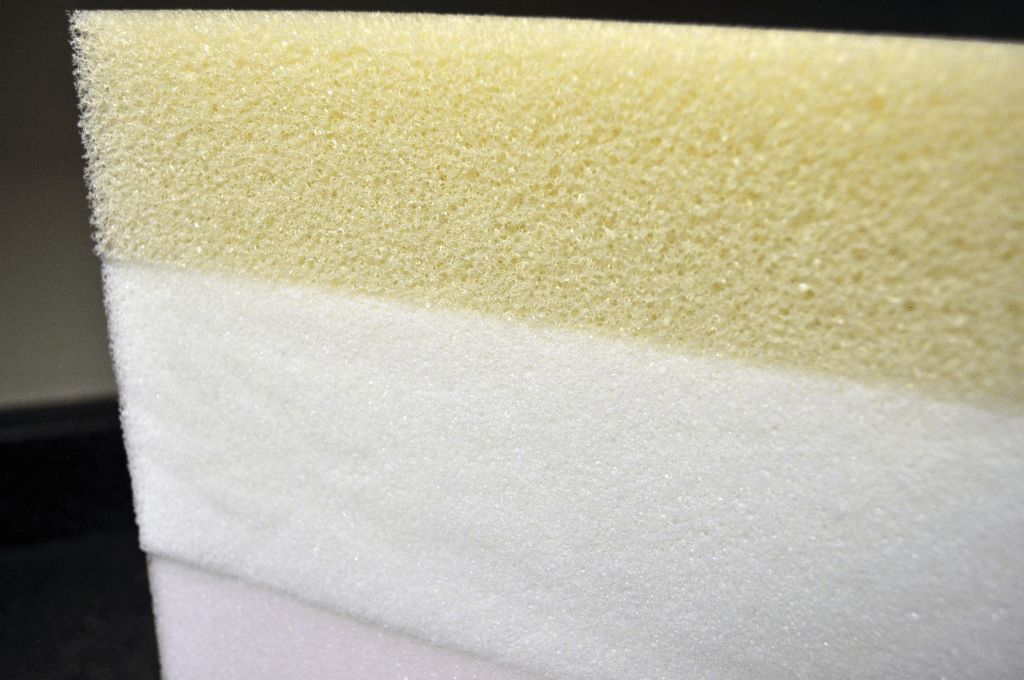 GEL MEMORY FOAM
The first method incorporates the gel as tiny beads, which are evenly dispersed into the foam during fabrication. They can also be add gel to the foam in a liquid state during manufacturing. Both ways integrate the gel in the early stages of fabrication to make sure that the gel is cohesively spread throughout the foam.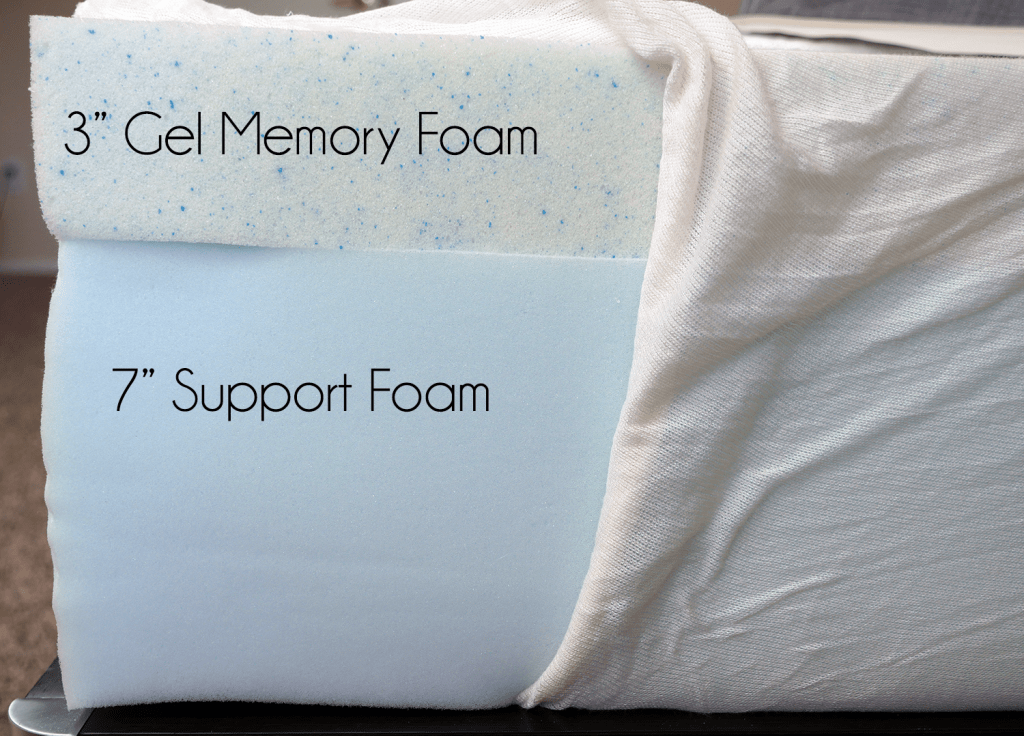 In my opinion, liquid integrated gel is better because you get more gel material dispersed throughout the mattress.
One of the biggest benefits that gel memory foam brings out is the cooling. This helps to better disperse heat from your body, preventing hot spots and heat retention. Many companies try to use "gel" as a buzz word to hype the quality and performance of their mattress. After all, how cool can a mattress be if it doesn't have gel memory foam? Be wary of these types of tricks and traps.
However, using gel doesn't mean your sleep is cool. The cooling of the mattress is due to many factors like: type of gel, type of memory foam, fire sock, foam density, layer design, and  mattress covers. A quality gel memory foam mattress will sleep cooler than a quality or low-quality traditional memory foam.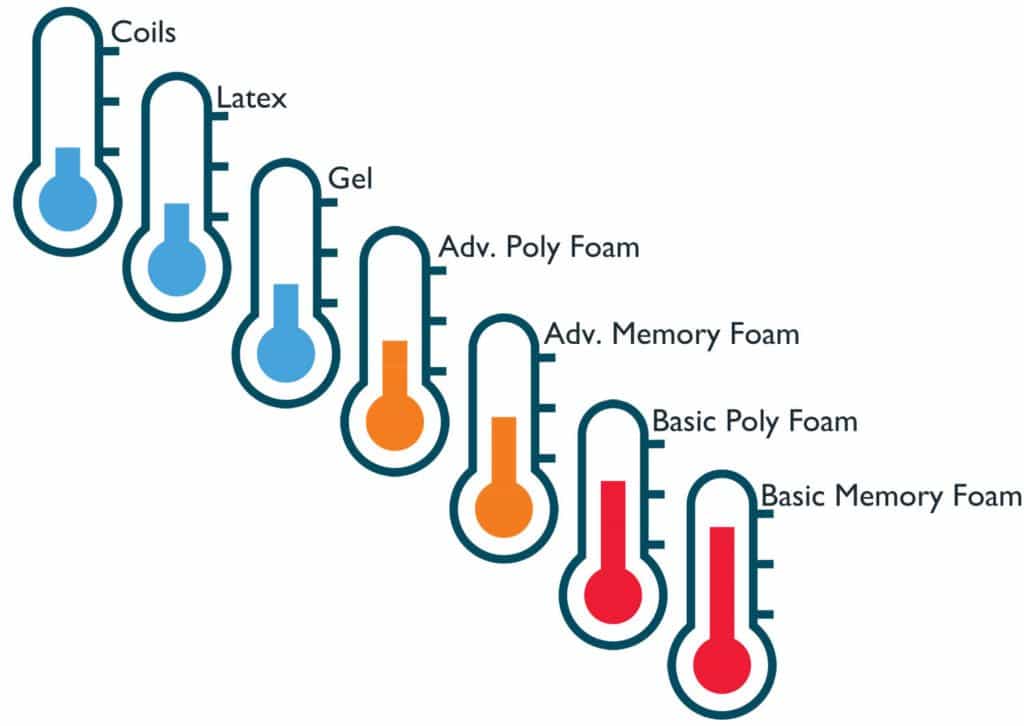 MEMORY FOAM MATTRESS REVIEWS
For the reasons of deep compression, hug, contouring, and pressure relief, memory foam mattress becomes more and more popular today. In this section, I would like to recommend some brand names which can provide the best memory foam.
| | | |
| --- | --- | --- |
| Mattress | Description | Price |
| Loom & Leaf | Give sleepers a balanced feel do to quilted cover, Use natural materials, moderate hug / contour, high densities, available in medium and firm | $1,099 |
| Amerisleep | Modern feel (more responsive due to open-cell foam), lots of hug / contour, high densities, available in multiple firmnesses | $999-$1,899 |
| Nest Alexander | Balanced feel due to to thick quilted cover, moderate hug / contour, high density foams, available in soft, medium, and firm, provide great support and pressure relief, absorb heat from the sleeping surface and disperse that through the sides and bottom of the mattress | $1,099 |
| Tempurpedic | Traditional feel, slow response, lots of hug / contour, available in multiple firmnesses, very expensive, but high quality | $3,599 |
| Dreamfoam Bedding | pull heat away from the sleeper, help to maintain a cooler sleeping surface, provide the initial soft feel, sinkage, and hug for the sleepers, provide the pressure relief and support | $549 |
| Novosbed | provide a cooler sleeping surface and balanced level of comfort, relieve pressure points between your body and the mattress, Traditional feel, slow response, lots of hug / contour, high densities, available in soft, medium, and firm | $999 |
Have you chosen the best mattress for you?  I think with the benifits that memory foam mattress brings out, it would be the best mattress for most sleepers, whether you are back, side or Stomach sleepers. In order to save money, visit mattress coupons to see many promo codes from all famous mattress stores. Take chane!