It's time to get rid of your old and uncomfortable mattress. I believe Amerisleep Liberty Mattress would be a perfect alternative. If there is still doubt  in your mind, hope this review below will give you some useful information to choose the best mattress!
CONSTRUCTION OF AMERISLEEP LIBERTY MATRESS
LAYERS
Amerisleep Liberty Mattress is constructed from three separate layers including:
Top layer (cooling & comfort) – 3″ of Bio-Pur memory foam. The Bio-Pur memory foam technology's out-standing feature works is to pull heat away from the sleeper, help maintain a cooler sleeping surface. Therefore, this layer functions a to provide the cooling, comfort, and pressure relief for the sleepers.
Middle layer (support & pressure relief) – 2″ of transition foam. The role of this second layer is to support sleepers. Besides, the middle layer also acts a transitional layer from the more supportive base foam and softer top layer of foam.
Bottom layer (foundational support) – 7″ of Bio-Core support foam. The bottom layer acts as the deep compression support for the sleeper as well as the foundational support for the mattress.
COVER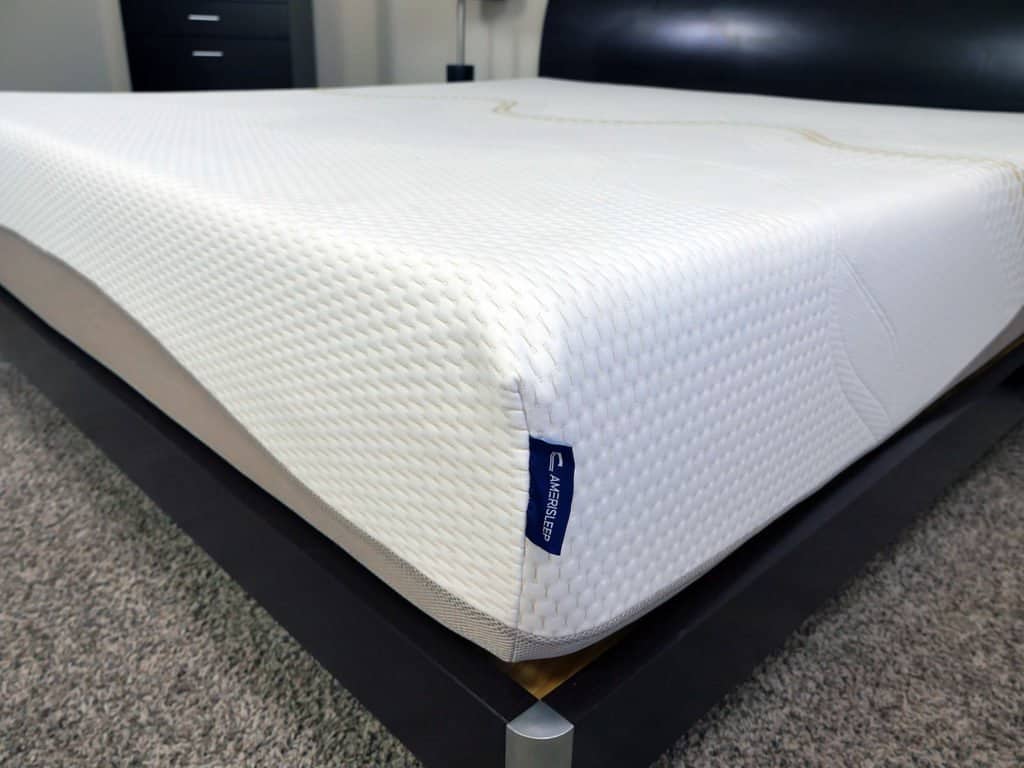 The Liberty Mattress cover consists of Celliant (21%), spandex (2%), and polyester (77%). Meanwhile, Celliant plays an important role in forming the cover. This unique material is designed to turn your body heat into infrared light. Scientists demonstrate that both celliant and infrared light help to increase blood flow, and allow your body to carry more oxygen. Do you know that improving oxygenation during sleep can reduce back pain, neck pain,.. and get more restful sleep. Moreover, the spandex and polyester work together to improve airflow in and out of the mattress but still guarantee a level of elasticity to the cover.
The cover is simple, but very well done and has a sleek modern look to it. For all I've mentioned, The Amerisleep Liberty Mattress' cover  is nice enough to meet your requirement for a best mattress.
FIRMNESS, FEEL, & SUPPORT 
Amerisleep Liberty Mattress Firmness
The Amerisleep Liberty mattress gives you medium feel, 5 out of 10 on the firmness scale. . Amerisleep went with a 5 out of 10 on the Liverty in order to meet a vast majority of sleeper needs.
The Liberty Mattress allows for deeper sinkage and more pressure relief where you body needs it, but still feels supportive and has an above average response. Sleepers, who need that pressure relief, but don't want to feel enveloped by the foams can get a huge benefit from Amerisleep Liberty Mattress. For example, a person who weighs like me, about 140 pounds will see 1.5-3″ of sinkage. Besides, heavier sleepers can expect a little more sinkage, up to the 2.5-3.5″ depth. but the mattress does a great job of pushing back to provide great support while transitioning body weight into the support layers.
Feel & Support
In my opinion, support is the most impressive attribute about Amerisleep Liberty Mattress. Not only stomach sleepers but the side sleepers will also be better with this mattress thanks to its consistent sinkage  to maintain stable spinal alignment.
Accessory: Best pillow for side sleepers and stomach sleepers.
Cooling and bounce are two additional feature of Amerisleep Liberty Mattress. Their foams have the ability to respond fairly quickly (not as fast as coils or latex, but better than most memory foams), helping to add a nice degree of bounce to the mattress. It should be noted that the bounce is not at the level of a coil mattress. However, it's not that far off of latex, and significantly better than most other memory foams I've tested.
 On the other hand, differ from other typical memry foam mattress, this kind of mattress don't have a tendency to hold heat. The thin cover helps in terms of breathability and overall airflow in and out of the mattress. In addition, the top layer of Bio-Pur foam helps to pull heat away from the sleeper. This element helps to create a cooler sleeping surface.
SINKAGE TESTS
These sinkage tests are deigned to provide you with insight on how the mattress will perform under various conditions. This is an indispensable part of Mattress Reviews
The test is done with a person of 140 pounds. Other weight may bring back the different results.
Lying on back – In the position of  lying normally on back with all of tester's weight spread evenly across the mattress, the mattress sinks 1.5-3″
Lying on side – In the position of lying on side sleeping , the mattress sinks 1.5-3″
Sitting on the edge (conservative) – in a normal sitting position,  the mattress sinks 4″
Sitting on the edge (aggressive) – In this position the mattress sinks 5″ of sinkage.
Standing in the middle – In this position, the mattress sinks 6″
OTHER KEY CONSIDERATION
Shipping : 1-2 days processing, 1-5 days shipping via FedEx, compressed in a box
Warranty: 20 years
Trial Period :  100 days
Discount programs: Visit our Mattress Coupon codes to see any Amerisleep promo codes to save your money
PRICE
Refer to the table of Amerisleep Liberty Mattress' price below
| | | |
| --- | --- | --- |
| Size  | Price | Price with discount |
| Twin | $1,099 | $999 |
| Twin XL | $1,149 | $1,149 |
| Full | $1,249 | $1,149 |
| Queen | $1,399 | $1,299 |
| King | $1,599 | $1,499 |
| California King | $1,599 | $1,499 |
| Split King | $2,198 | $2,098 |
CONCLUSION
In this section, I will summarize 4 key points of Amerisleep Liberty Mattress. These key points can help you to compare all products of Amerisleep Mattress with other mattresses from different sources.
Medium firmness: at the rate of 5 out of 10 on the firmness scale ( the maximum is 10)
Advanced memory foam mattress : give high density, great breathability, and highly durable
Good bounce and cooling: The Amerisleep Liberty Mattress really does a job of providing air flow, allowing for a cooler sleeping surface. The Amerisleep Liberty provides a pretty good response time . Their response time is not as quick as latex or coils, but much better than traditional memory foam.
Support for both sleep on your side and back. By allowing excellent contouring along the side of your body, but still providing impressive support, the Amerisleep is the perfect mattress for you.
For more reviews about other Amerisleep Matress, visit our Mattress Reviews and don't forget to look for Amerisleep coupons at coupon category to save! Take chance and bring the best mattress to your home!