Guess what  Bestmattresstoday  brings to you today? A new product from Amerisleep store called Amerisleep Colonial Mattress . Whether it is a best mattress for you or not, let's refer to the review below
CONSTRUCTION
AMERISLEEP COLONIAL MATTRESS 'S LAYERED FOAMS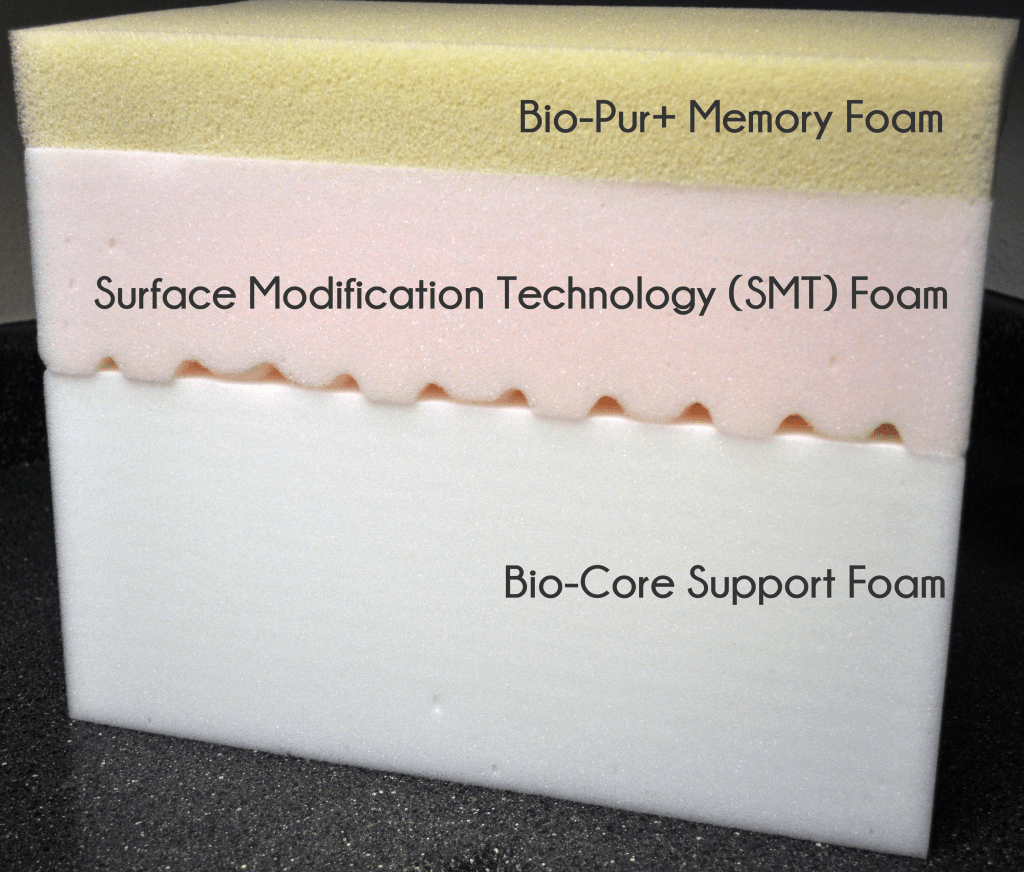 The Amerisleep Colonial mattress is a 13″ memory foam mattress constructed from 3 different layers of foam.
Top layer
Top layer is designed by Amerisleep as a comfort layer. It is made of Bio-Pur and memory foam to provide great feel, softness, and pressure relief for the mattress. Manufacturing memory foam goes through a process called reticulation. This process blows out the cell walls.  It  still keeps the memory foam intact that make sleeps incredibly cool and be able to breath much better during the night.
Middle layer
Middle layer is a support & transition layer – this is a layer is 4" SMT (Surface Modification Technology) foam. It has a density of 1.65 pounds. Amerisleep uses large rollers to conform the foam in a specific pattern during the manufacturing process in order to create this foam. This pattern allows for better airflow by creating breathable channels, while also adding additional support and redistribution of pressure points in specific zones where it is needed most.
Bottom layer
This 7.0″ layer acts as a foundational support layer. It provides a good base for the above layers, while remaining breathable.
COVER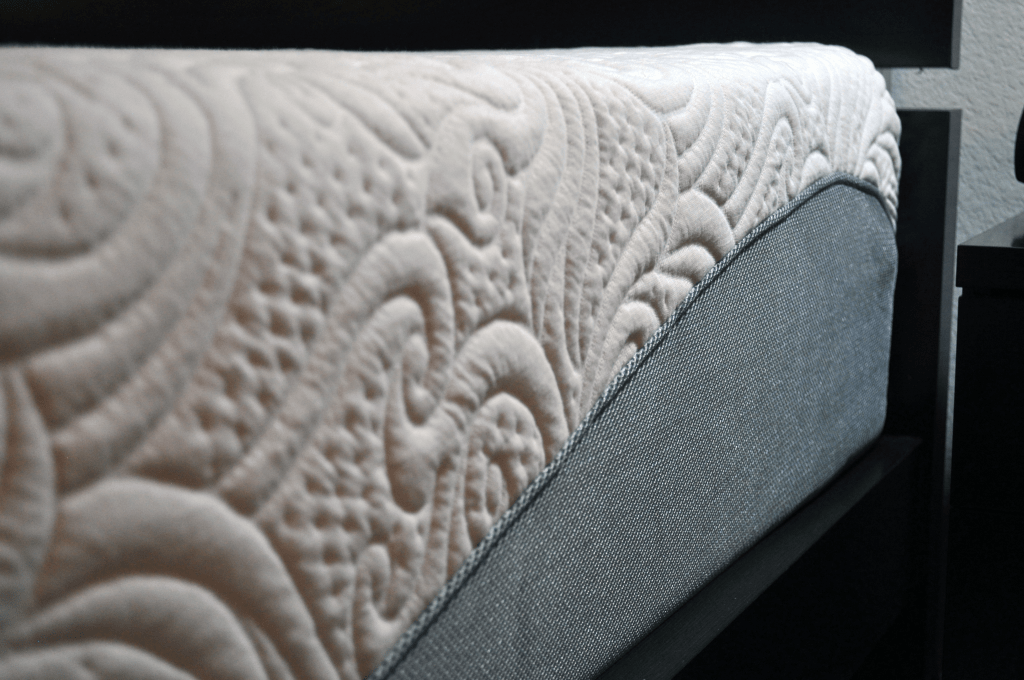 Color
The Amerisleep cover has a nice contrast between 2 colors: white and grey. The top piece of fabric has a fairly traditional look and texture, combined with a great softness and feel.
Material
The cover is constructed from a blend of fabrics which runs along the edge is 100% polyester. The top piece of fabric is comprised of 21% Celliant, 2% spandex, and 77% polyester. You know that celliant and infrared light have been clinically proven to increase blood flow. This allows your body to carry more oxygen. Better oxygenation of your body during the night translates into less pain, better temperature regulation, and more restful sleep. I'm sure it's one of the most interesting and intriguing materials.
Fire Sock
One of out-standing feature of Amerisleep cover is Fire Sock. Beneath the exterior cover you'll also find a fire sock. This thin cover is designed to replace traditional chemical based flame retardants and help prevent mattress fires
The cover plays an important role because it is the appearance of the mattress. With three great features of Amerisleep cover make it become one of the best mattress for you.
FIRMNESS, COMFORT AND SUPPORT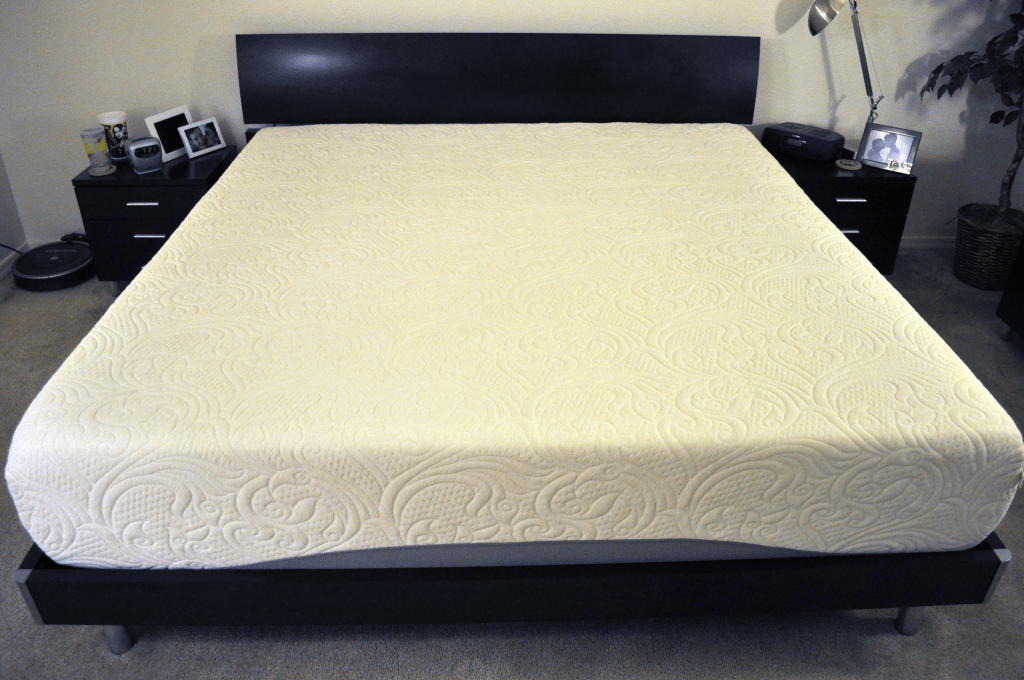 While most online mattresses tend to aim more for a medium level of firmness, usually around a 6 out of 10. Amerisleep mattress is a bit on the softer side, 4 out of 10. The problem with soft mattresses is with softness you can lose support and it can begin to feel a bit like sleeping in quicksand. By offering great responsiveness and support. On my test with three sleeping position, stomach, side and back sleep, Amerisleep mattress offers all good support.
With the progressive improvements in their foams, the newest foam is among the most advanced foams I've ever seen or sleep tested. The Bio-Pur+ foam makes the top layers off Colonial very well made and comfortable. But what I found the most pleasant in Colonial mattress is the open cell structure cooling claims. Not hot like traditional memory foam, Colonial mattress's one of the top mattresses in terms of coolness that I've tested and reviewed.
SINKAGE TEST AND MOTION TRANSFER
Through three sinkage tests, you will have an idea of how the mattress will perform under varying circumstances, positions, loads.
Normal lying position– When lying down on the mattress, I saw 1-2″ of sinkage. The middle layer of the Colonial mattress has been formed to provide extra support in the most common areas where more support is most needed.
Sitting positions– In the normal sitting position I am sitting further back on the mattress with my feet on the floor. I saw about 3″ of sinkage. In a more extreme position, I saw around 5″ of sinkage. Compared to other mattresses, the colonial matress are a bit higher. But, its height is about 13", the relative numbers are fairly typical of a foam mattress.
Standing position– while standing in the middle of the mattress I saw about 5.5″ inches of sinkage. While you would never actually do this with your mattress I always like to run this test to show how it performs under maximum pressure.
OTHER KEY CONSIDERATION
Warranty – 20 years, very long, the industry standard is about 10 years
Shipping – 1-2 days processing, 1-5 days shipping via FedEx
No Sales Tax – except for Arizona residents
Trial Period – 90 days
Refunds & Exchanges – 100% money back guaranteed, you may return or exchange your mattress within the trial period (you do have to pay for return shipping though)
Made in the USA – 100% made and sourced within the USA
PRICE
Here  is a summary of the prices of the Amerisleep Colonial Mattress for you to refer
| | |
| --- | --- |
| Size | Price  |
| Twin | $1,299 |
| Twin XL | $1,349 |
| Full | $1,449 |
| Queen | $1,599 |
| King | $1,799 |
| California King | $1,799 |
| Split King | $2,598 |
Do you know how to save your money with  Amerisleep Colonial Mattress, visit our Amerisleep Coupon code you may find more Amerisleep promo codes and discount programs . What are you waiting for? Take chance!
In conclusion, I really recommend you to use Amerisleep Colonial Mattress for the great design of  sorfness, coolness. I believe that Amerisleep Colonial Mattress will make you feel comfortable through your sleep, prevent from back pain, neck pain, (best mattress for back pain, best pillow for neck pain)..Follow our Mattress Review for more information of all top brand and best mattress.